Twenty five kilometres north of Koh Bon lies Koh Tachai. This is one of the finer dive sites Thailand has to offer with an underwater plateau teeming with marine life and coral. As well as the plentiful regular reef inhabitants there is always the chance of spotting something larger in the waters here such as manta rays, nurse sharks, leopard sharks and hawksbill turtles. Whale sharks have been known to visit around April May time. Koh Tachai also boasts a breath taking beach on its eastern coast.
Most of the diving is one around a plateau of rocks off the southeastern side of the island forming cracks, caverns and beds for coral and marine life, currents and surge can be quite strong here.
Koh Tachai Pinnacle
Around 500 meters south of the island are two submerged pinnacles that drop to around 35 meters. There are plenty or rocks forming swimthroughs and cracks for marine life to hide. Mantas have been known to visit the pinnacles and there are always large schools of fish here. Currents can be strong at this spot.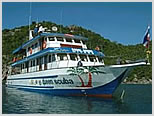 Thailand liveaboard trips
We now also offer liveaboard trips to the Andaman from Thailand, visit the Similans, and world class dive sites of Richelieu Rock, Koh Bon and Koh Tachai from the luxury of a liveaboard, find out more here: Thailand Liveaboards