---
Best viewed in Firefox at 1024x768. We have had reports of some parts of the site not functioning in IE so we recommend Firefox

---
Asia Dive Site
the concept ...
Our aim is to put together the largest online collection of dive site information for the Asian region. This resource is being developed by divers for divers, we are still adding dive sites to our listings so if what you are looking for isn't online yet be sure to check back frequently or let us know. At the moment we cover Thailand, Burma, Malaysia including the coral reefs at famous dive resorts such as Mabul Water Bungalows and Sipadan Water Village, Indonesia, the Philippines and the Maldives dive sites in detail. We will be expanding this site to include Korea, Japan, and the Andamans as soon as we can and are currently adding dive sites of Micronesia
Latest added Asia Dive Site:
Guam : Apra Harbour
Most popular Asia Dive Site:
Philippines : Boracay

Coming soon ... Truk Lagoon, Saipan, Taiwan dive sites.
Latest Asia Pacific dive news and marine ecology headlines:
Greenpeace: fishing boats destroying Gulf of Thailand (Jun 29)
Cebu Yellow Submarine ordered to halt after damaging reef (May 1)
Praying for whale sharks in the Philippines (Apr 29)
Philippines voted best diving destination in the region (Apr 22)
Interview: Miss Scuba Indonesia (Apr 21)
Thai dive boat sinks in Similan National Park (Apr, 17)
Chinese vessel runs aground in Tubbataha Reef (Apr 13)
$US1.4 million fine demanded for Tubbataha reef damage (Apr 12)
Feature: getting wrecked in Subic Bay (Mar 31)
Malaysian divers aim for world record in marine park cleanup (Apr 8)
Chumphon, Thailand coral reef cleanup project.
February 2014.



Diving Pulau Weh, Indonesia; The Canyon.
October 2013.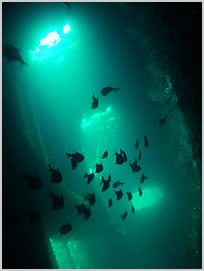 Asia Dive Feature:
The Wonders of Weh
The main reason for coming to this island, I admit, is a selfish one; the lure of the underwater coral playground. Diving aside it is a lush green tropical paradise with gin clear water that displays a million shades of cerulean when lit up by the equatorial sun ... [read on]


More Asia Dive Features:

» Getting wrecked in Subic Bay
» Puerto Galera Part II: More Sabang for the buck
» A scuba honeymoon in the Maldives
» Sampling Sabang's sub-aqua scenery
» Diving the Similans: Day trips from Khao Lak
» Diving with mantas at Hin Daeng and Hin Muang
» Myanmar's underwater wonderland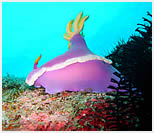 Asia Dive Hot Spot (April - July)
For some great easy access diving in crystal clear waters now would be the time to head over the Puerto Galera in the Philippines. Sabang is the hotspot where you can literally dive off the beach and find all types of dive sites from reefs to wrecks and a wide variety of marine life. Macro fans won't be dissapointed as the area is a haven for nudibranchs and other critters, big fish freaks can also get their fill on some of the deeper dives and drifts out at Verde Island.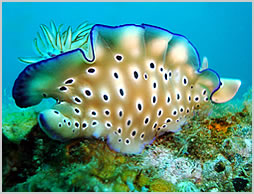 Image of the month
Nudibranch.
(Chromodoris kuniei)

Dive site: Subic Bay, Philippines

Camera: Sony DSC W80, Ikelite housing.

Copyright: M.J. Young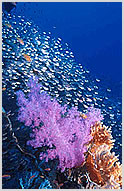 Diving in Asia
The coral reefs of Southeast Asia are said by conservationists to be the most important in the world as they are among the most diverse and productive communities on the Earth. Of the 800 different species of coral known to science, three-quarters are found in Asian waters. A rich marine ecosystem stretching over thousands of kilometers and crossing many countries makes this region the best on the planet for the scuba enthusiast.
Interactive Dive Map
The map below highlights dive regions that we have covered, click on each one to get a larger map and more information on the country. Each country also has area dive site maps that will link to a local map with descriptions of the dive sites.
Asia Dive Seasons
This is a very approximate guide to diving seasons in Asia - we recommend that you contact dive operators to get specific weather information for their area.
Country

J

F

M

A

M

J

J

A

S

O

N

D

Maldives
Burma
Thailand
Malaysia
East Coast
Malaysia
West Coast
Borneo
Indonesia
Cambodia
Vietnam
Hong Kong
Philippines
Micronesia
Asia diving seasons green: good diving, yellow: weather variable, red: off season