The Wakatobi National Park is named after four islands, Wangi Wangi, Kaledupa, Tomia, and Binongko all in the Tukangbesi archipelago off the southeast coast of Sulawesi. Its remoteness is one of its greatest attractions both above and below the surface. Pristine reefs and vast marine diversity can be found around the islands and atolls of Wakatobi with hundreds of dives sites, many of which remain unexplored.
Anano Island
This small island set away from the main group has a couple of good wall dives where large schooling mackerel and tuna can be seen.
Koromaha and Koka Atolls
These two coral atolls have stunning, untouched coral reefs, walls and overhangs that are simply teeming with marine life. Most of the diving is done on the outer rim and at the entrances where fish also congregate.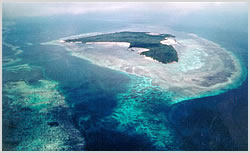 Hoga Island
There are plenty of walls, pinnacles, caves, inlets and overhangs around this small island. Coral and marine life is in abundance and huge shoals of fish can be seen. The currents here can be strong and unpredicatable.
Wakatobi Resort house reef
The resort house reef on Tolandono island has often been described as "the best house reef in the world" and its not surprising why. Myriad reef fishes and a kaleidoscope of colour is just a few fin strokes off the beach. The warm shallow reefs are teeming with life and long bottom times are attainable to take it all in. Onamobaa Cavern is an extension of the house reef and is a stunning soft coral dive.
There are countless dive sites around the islands here including Lorenz's Delight, a sloping wall and overhangs are jam packed with gorgonians, sponges and soft corals. Inka's Palette is exactly that, a colourful palette of coral on a slope which gradually drops away into the blue. Turkey Beach offers a shallow drift dive with a long overhang and a number of canyons. Large schools of swirling fish can be found at Roma where there is a small pinnacle teeming with life.