Tulamben has become Bali's most famous diving area. Tulamben Bay, like the rest of Bali, is situated in the richest marine biogeographic zone in the world. Being on the northeast coast, the bay receives plankton rich waters from the major ocean currents that move from the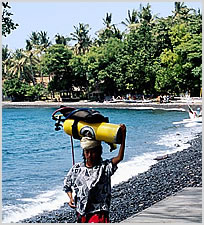 Pacific to the Indian Ocean. This, coupled with the fact that the three main dive sites provide totally different physical environments, means that Tulamben contains a stunningly diverse underwater ecosystem.
The black sand of Tulamban does not provide the reflective properties of white limestone sand and, combined with the amount of plankton in the water, accounts for the relatively low visibility. It does however provide a dramatic contrast, which brings out the colours of the corals, gorgonians, fish and other marinelife.
Tulamben Wall/Drop Off
Tulamben Wall drops off to over 60 meters and is located around 500 meters to the east of the world famous Liberty Wreck. Topography consists of three coral carpeted lava spurs that plumet down to 50 meters or so with an overhang at around 18 meters. There is a magnificent purple gorgonian sea fan at about 28 meters that is over 2 meters in diameter. there are big bumphead parrotfish to be seen here and the black sand plays home to ornate ghost pipefish and cometfish. The area also seems to attract a lot of lionfish for some unknown reason.
Kelebit Rocks
A 15 minute boat ride from Tulamben bay will take you to these two off shore rocky outcrops, topography is quite dramatic with three steep ridges covered in hard coral. The sand is no longer volcanic, the water is cooler and even the fish life is different to back in the bay. Visibility is often better here and larger predators come in to feed including sharks and barracuda. Hammerheads and Mantas have been spotted at this dive site.
Paradise Reef
This area lies between the Liberty Wreck and the drop off. It is also called Coral Garden or simply House Reef. The shallow slopes here drop to a maximum depth of 25 meters and are home to all manner of macro delights. Marine life is extremely diverse and you will see ribbon eels, octopus, anemonefish, harlequin shrimp, morays, and many juvenile species. Also a great night dive venue where Spanish dancers alongside boxer and hairy crabs can be found.