Asia Dive Trip : The wonders of Weh
I would have liked to have spent a little more time exploring Banda Aceh but I really came here to get to the idyllic tropical island of Pulau Weh, an hour ferry ride off the northern tip of Sumatra.

The main reason for coming to this island, I admit, is a selfish one; the lure of the underwater coral playground. Diving aside it is a lush green tropical paradise with gin clear water that displays a million shades of cerulean when lit up by the equatorial sun. Half an hour of twisty roads and impossible hill climbs in a beat up old Nissan takes us from the port town of Sabang to the tiny Gapang bay where we'll be based for the next few days.

This is the beach that time forgot (except during an Indonesian holiday when it gets inundated by locals brandishing iPads); tiny shacks selling nasi goreng, goats wandering around for food, local men lazing under palm trees smoking, and the rhythmic music of the waves crashing over the coral shore as the soundtrack.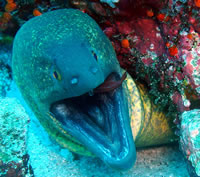 Into the blue I went to see if sub-aqua Pulau Weh lived up to the haughty claims (best diving in the Indian Ocean according to Lonely Planet). The first thing that impresses is the clarity of the water, at least 20 meters visibility on most dives, secondly the cleanliness and health of the reef which (unlike other parts of the region such as Thailand or the Philippines) bears very few scars of overfishing.

Fish life is prolific and most of the underwater topography is similar; rocky reef slopes descending into the abyssal blue. Our dive shop, Lumba Lumba, was perfectly placed to access all of the island's dive sites, the first one being Limbo Gapang where we spot morays, five cuttlefish and an octopus.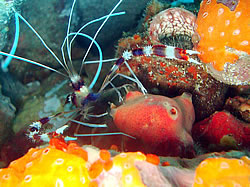 Things just got better from then on, diving at Arus Balee (bastard current) rewarded us with fantastic visibility and huge schools of reef fish, particularly triggerfish, surgeonfish, swirls of orange anthias and lionfish. I don't have to mention the ripping current that the site takes its name from! We also dived at Selako Cave, Batee Tokong and the sublime Rubia Sea Garden.

One dive called The Canyon was simply epic with around 35 meters of visibility, gorgonian fan forests, dramatic drop-offs, moray eels abound, a turtle and even blacktip reef sharks.

Pulau Weh is a paradise Indonesian island that has yet to be ruined by mass tourism so my only recommendation is that you get there while it lasts!




Recommended:
Lumba Lumba: www.lumbalumba.com

Full image gallery can be found on: www.ontheroadasia.com

© Copyright 2013. Martin J. Young is a freelance writer and photographer who has been diving in Southeast Asia for the past fifteen years. He is a contributor for Asia Dive Site and a number of other Asian publications.