Asia Dive News : The majestic mantas of Purple Rock
The idyllic island of Koh Lanta lies on the Andaman coast in southern Thailand. It is striving for the popularity of neighbouring tourist destinations such as Koh Phi Phi and Phuket but has a long way to go, and this is what attracted me to spend a week or so there over the holiday season. I was looking for a peaceful slice of paradise, but one still close enough to the good dive spots in the area.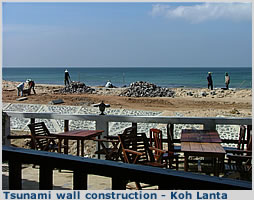 Construction is evident pretty much everywhere on this stretch of Thai coastline as developers and business owners hurry to get their properties in shape for the tourist season. Tsunami damage to Koh Lanta was minimal but still visible; our "beachfront" view was somewhat obscured by a tsunami wall that was being built. The concrete eyesore did nothing for the natural beauty of the coastline, but probably went a long way in keeping local minds at rest.
Sombre reminiscing and government-sponsored events were being held on December 26, a year after the waves struck, over in Phuket (about 75 kilometres northwest of Lanta) and Khao Lak, where the impact was greatest. I was heading out in search of the excellent diving that the area is famed for. Our divemaster held a minute's silence in remembrance before the dive brief, a thoughtful gesture.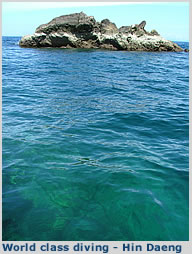 Our dive sites of the day were the renowned Hin Daeng and Hin Muang (Red Rock and Purple Rock). I had looked forward to diving these two spots since moving to Thailand several years ago. The two remote pinnacles are the only area for miles of empty ocean where fish come to feed - this in turn attracts bigger fish and more marine life.
The trip out is a long three hours, but even further when starting from Krabi or Phuket. Fortunately there were not too many other boats at the rocky outcrop - the spot can get very busy at times.
The first dive was Hin Daeng, and the first thing that struck me on descent was how good the visibility was when compared with other sites in Thailand . Immediately after marvelling at the clear, deep-blue waters, I began to notice the prolific marine life here, with fish including clown and redtooth triggerfish, large angelfish, larger moray eels and an impressive school of barracuda. With my face buried into the reef searching for smaller critters, I failed to notice the huge manta sweeping past only a couple of metres away until my dive buddy frantically grabbed my attention. The huge ray did a couple of passes over the rocky pinnacles and disappeared into the blue in the direction of Hin Muang, where our next dive was to be.
The excitement was high back on the boat with talk of who saw the manta and who missed it. After our surface interval we moved over to Hin Muang, 500 metres away, and jumped in for our second dive.
The loaf-shaped pinnacles here drop down to around 60 metres. The top portions are totally carpeted in anemones without a square inch to spare, as if they're competing for reef real estate. We were only underwater for around five minutes before the first manta showed up - followed by the second. The next 50 minutes or so were spent at around 10 metres, where three of these majestic creatures swam with us. Each with their own little team of cobias and remoras, they seemed to be playing in our bubbles and even posing for photos.
Mantas are the largest in the ray group or Mobulidae family and are distributed throughout tropical waters. They are usually found near the surface, where they filter-feed on plankton and other small organisms. Fully grown adults can reach 8 metres across, though the average size is closer to 6. They are harmless to humans and rarely hunted; however, we noticed a length of fishing line caught up around one of the feeding lobes of one of the animals on the dive.
Another disturbing sight at these dive sites was the presence of fishing nets tangled up on the coral. A trusty dive knife always comes in handy to cut them off. It is a little disappointing that the Thai authorities are not making more effort to protect their natural marine wonders from over-fishing. They are often all too quick to take over-inflated national-park entrance fees from foreigners, but rarely put the money back into the preservation of the parks. When they finally wake up to the fact that coral reefs and their inhabitants don't last forever, it will be too late.
The most unsettling sight of all happened just as we were preparing to leave. A huge floating mass of plastic bags carelessly cast off from a local fishing boat began drifting past. Most of the divers aboard immediately jumped in to clean up what they could and get the plastic out of the ocean. We managed to collect most of the floating refuse and hated to think what would happen if one of those mantas inadvertently swallowed something it shouldn't.
These two Andaman dive gems are very popular and get a lot of boat traffic, but it would be nice to think that most scuba divers and boat operators are environmentally aware and care for their natural surroundings. The reef and coral out here showed very little damage and were totally unaffected by the previous season's natural cataclysm. We all wish it could remain that way for our children and even grandchildren to see.
Copyright: Martin J. Young 2006. For more info on diving from Koh Lanta see Koh Lanta Diving Center