Asia Dive News : Diving the Similans: The Khao Lak comeback
KHAO LAK, Thailand - This resort town nestled on the southwest coast of Thailand, on the still-pristine Andaman Sea, has made a remarkable recovery after the tsunami of 2004. After near-destruction in that cataclysm, it now is striving to bring back the tourists it had in more prosperous times. Memories run deep, but the community is looking toward the future, and returning the area to its former glory.
Khao Lak today
Khao Lak is a small built-up area along one beach, with others further north at Bang Niang and Bangsak. Tsunami damage in the central section was limited to one low-lying area of about 2 kilometres square that is currently a building site. The resorts and hotels on higher ground survived unscathed.
The small centre consists of a number of restaurants serving good local and Western cuisine; one that springs to mind called Dive In was worth several visits. There are a few bank machines, some clothing shops, and a couple of live-music bars, although at this time of year what high season Khao Lak had this year is trailing off. Most of the dive shops are located here, which makes selection an easy process for those who come here to take advantage of the clear Andaman waters.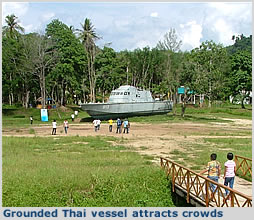 Bang Niang, about 3km north of Khao Lak, was one of the hardest-hit places in the country when the great tsunami crashed ashore the day after Christmas in 2004, and evidence can still be seen almost 16 months on. A slightly different geography here means there was a lot of low-lying land off the beach. A few places have reopened but the area remains largely under redevelopment. One bleak reminder that has now been turned into a "tourist attraction" is a Thai military ship that was swept about 2km inland, where it rests to this day.
Further north still, one can find pristine beaches very popular with locals, where a meal and a couple of beers for two people can cost less than US$5. One stretch of beach was eerily void of people, with a dilapidated resort still standing deserted. Yet the adjacent long, golden beach itself is as stunning as it has always been, with no sign of anything amiss.
Local Thai business owners and workers are optimistic despite their superstitions, which run deep.
"Khao Lak is half as busy now as it was before the tsunami, but we expect it to fully recover within the next two years," one resort employee said. "Foreign tourists are slowly returning, but Thai people continue to stay away, they are afraid of pii [ghosts]."
The endurance, optimism and genuine friendliness from locals here is a refreshing change from that experienced in more heavily developed Thai resort destinations, where the quest for the dollar has become an all-enveloping disease.
The sub aqua situation
Land-based efforts to recover the tourism trade must be considered a success, as we found most dive boats operating out of Khao Lak to the Similans fully booked.
The advantage of using Khao Lak as a base for scuba-dive trips is its proximity to the premier dive sites. A speedboat can have a group of divers in the Similan Islands or other sites further north in less than an hour and a half. This would take a lot longer from destinations further south such as Krabi or Phuket, where a live-aboard option would be more likely.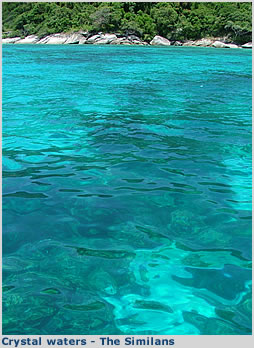 The Similan Marine National Park consists of a number of islands about 70km off the coast of Thailand. It is considered one of the top 10 dive sites on the planet and can reward visitors with breathtaking scenery both above and below the surface. From pristine white-sand beaches to striking boulder formations to crystal-clear cerulean waters and coral gardens offering a kaleidoscope of colours, the Similans offer it all.
After last diving off the Similans back in 1998, we were eager to see if there was any difference today. After a brisk speedboat ride out to island No 9, we descended upon the shallow sloping reefs of Breakfast Bend. The morning light intensified the colours of the huge variety of corals here; fish life was intense, with huge schools of glassfish, puffers, angelfish and butterflyfish all in abundance - even a leopard shark cruised past.
More good diving was had further south at Beacon Reef. The coral here looked pristine and untouched. Huge underwater rock formations, swim-throughs, caverns and fantastic visibility greeted us at the Elephant Rock dive site. There was plenty to see here too, from large, colourful sea fans to tiny anemone crabs bustling around in their host home.
Further north but still within the Similans national park are Koh Bon and Koh Tachai ( koh is "island" in Thai). These offered spectacular underwater plateaus and walls encrusted with corals and teeming with fish. A graceful manta silently drifted past toward the end of our second dive to round off an excellent day of diving.
One fine day we motored over an ocean as flat as glass under a searing, cloudless tropical sky to the world-famous dive site of Richelieu Rock. Again as testament to the booming dive industry in Thailand there were several boats already present at the dive spot. The splintered granite formations here just break the surface at low tide and drop more than 40 metres deep. This is one of the best places in the area for spotting the gentle giants of the deep, whale sharks, especially at this time of year. We were not fortunate enough to see the biggest fish in the world but did see some delightful smaller creatures below the surface, including moray eels, turtles, barracuda, big schools of hunting trevally, mantis shrimp, and plenty of regular reef fish.
The underwater realms of these natural beauty spots are still as stunning as we remembered them. Nature often has a way of repairing itself far more quickly than we humans can, and there was little if any evidence below the surface of reef damage. The only real concern that coral-reef ecosystems and their inhabitants face are increased exposure to human activities as they become more popular and accessible. Human impact on them is a far greater threat than anything that mother nature can throw up, something we must bear in mind whenever we interact with any natural environment.
People looking for a quiet, relaxing vacation without the hustle and bustle of the major tourist centres need look no further than Khao Lak. While there still are a few stark reminders of the natural cataclysm that affected so many lives here, the little town itself has bounced back. It may not yet have reached its former glory, but for some that is part of the attraction. Too often, in Thailand as in so many other places, overdevelopment of a resort can detract from the beauty that originally defined it.
Copyright: Martin J. Young 2006. For more info on diving from Khao Lak see Sub Aqua Dive Center