Asia Dive Trip : Get wrecked in Subic Bay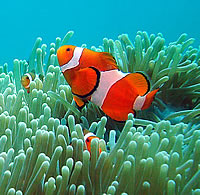 It had been a while, three years to be exact, since I had taken a dedicated dive trip so it was time to head back to the Philippines to see what the sub-aqua scene in Subic Bay was like. Originally a naval base established by the Spaniards in 1885, it became the largest US naval facility in the Far East. In 1991, the bay was transformed into a free-port economic and tourism zone and the dive sites were finally opened up to recreational divers as opposed to US military only.

I booked my flight two months earlier with Tiger Airlines, return from Bangkok to Clark and aside from the invasive and tedious security scans in the Thai airport all was a breeze and we were on the ground within three hours. I spent a night or two (it was a bit of a blur) in the raucous neon circus of Angeles City before heading to Subic and the ocean which was an easy one hour bus ride away.

The accommodation, Arizona Resort, was recommended by a friend in AC and he wasn't wrong – it had everything; three bars including a floating one, fantastic restaurant with the most extensive menu I have ever seen, well priced rooms, and – most importantly - an Australian managed dive shop.

The weather was perfect for my first dive, the most notable in the area; the USS New York, a 110 meter long battleship built in 1891 to serve in the Philippine-American war, the Chinese revolution, and WW1. She was decommissioned in 1931 and stayed in Subic Bay for the next ten years until scuppered by US forces to prevent the four 8-inch guns from falling into Japanese hands. Today resting on her port side in 30 meters of water she offers one of the most exciting diving experiences in the Philippines.

The descent into the murky depths was pretty surreal, especially when diving alongside these huge guns and around the stern where a massive bronze propeller was still intact, the second screw was buried in ash from the Pinatubo eruption in 1991. We did two dives here, the second involved some penetration into the wreck and its huge cargo holds, the darkness envelops you quickly and you can get carried away exploring the hulk. A beep from my dive computer brought me back to reality, it was already going into decompression mode so time to slowly venture back to the surface. Back on the surface the dive leader told me the wreck has many more accessible areas but had also claimed the lives of six divers trying to reach them.



After a morning diving there was no better way to relax in the afternoon than on the floating bar (attached to the dive shop) which was accessed from the beach by a raft and pulley system. A cold SMB and the setting sun over Subic Bay made the perfect combination.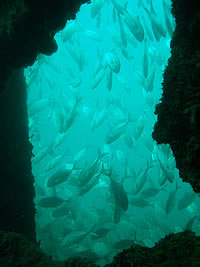 Day two we were diving El Capitan, or the 1919 constructed USS Majaba, a 3,000 tonne, 80 meter freighter which served in WWII providing cargo runs for the US military. She went down in Subic Bay following a storm and now rests on her port side on a sloping bank from 5 to 20 meters.

Being the first boat at the morning dive site and only two of us diving we were blessed with great visibility and marine life around this sunken hulk. Slowly cruising through the cargo holds, boiler room and corridors while shafts of ambient turquoise light penetrate here and there was very surreal.

Batfish would follow us around the wreck and a huge school of Jacks were circling the funnels mid-ships (see video below), this was the best dive of the week, I didn't want to surface.




Later we dived at a number of sunken barges used for navy training, depths were shallower and the light and visibility was very good so I could get some macro shots. Anemonefish, lionfish, stonefish, damselfish and butterflyfish were all abundant here, it made a very cruisy contrast to diving in wrecks.

The next day we headed across the mirror-flat waters of the bay to the site of a torpedoed Japanese patrol boat. The vessel sits upright in 25 meters of water and although the visibility wasn't the best the dive was good. A lot of soft corals, sponges and crinoids cover this wreck and there were a couple of stingrays in the sand around the stern. The engine room was visible but not penetrable due to heavy silt and the threat of imminent collapse, poking my head through the hatch was close enough!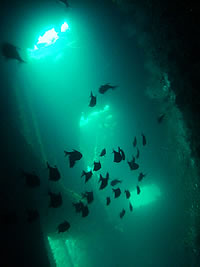 Dive two was a landing craft utility which was an amphibious assault vessel used to personnel and small vehicles onto beaches. Lying on angle in around 22 meters she offers some nice swim-throughs into the galley and smaller rooms where lionfish lurk in the darkness and large schools of glassfish part like effervescent curtains for the passing diver.

The LST is a landing ship tank capable of transporting large numbers of vehicles directly to the shore; she could shift 2,200 tonnes of cargo and had a crew of over 100. This one was deliberately scuppered in 1946 and today sits upright in 36 meters of water. Visibility was good as we dropped down the mooring line and the huge hulk slowly came into focus from the depths. Gun turrets and massive cargo holds were all visible however we could not enter the 100 meter leviathan due failing structure integrity. A school of inquisitive batfish shadowed us for the dive and the occasional barracuda would dart past on the hunt. Observing a number of small gobies setting up home in the reg on our deco tank made an interesting safety stop.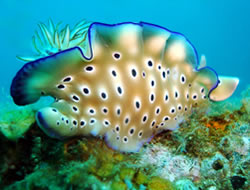 After diving six wrecks it was time for some reef where I could hunt down some macro marine life for the lens. Just inside of Grande Island lies Mystery Reef, a gradually sloping wall dive from 15 down to around 25 meters. Hard corals, sponges and feather stars were abundant here as were photogenic little nudibranchs of every colour imaginable, even some I had never seen before.

A dive at 'The Canyons' offered some great underwater topography as the name suggests, great walls of coral greeted us but sadly fish life was limited here due to destructive dynamite fishing still practiced by the locals. The corals of Subic also suffered when Mount Pinatubo dumped millions of tonnes of ash into the bay in 1991, over 20 years later the reefs are re-spawning. Thanks to coral planting and artificial reef creation efforts by the dive team at Arizona the area is showing good recovery and growth.

Subic Bay is an underwater wonderland steeped in history; it has one of the highest concentrations of war wrecks within recreational diving limits in the world and is a must visit for avid wreck divers. I extend my thanks to Mark and Tim from Arizona for introducing me to Subic Bay and making me feel at home there.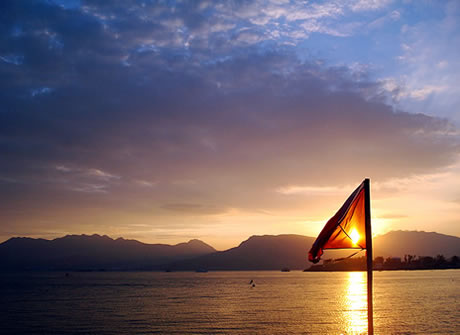 Recommended:
Arizona Dive Shop: www.arizonadivesubic.com




Full Image Gallery can be found on: www.ontheroadasia.com

© Copyright 2013. Martin J. Young is a freelance writer and photographer who has been diving in Southeast Asia for the past fifteen years. He is a contributor for Asia Dive Site and a number of other Asian publications.