Malaysia :: Langkawi and Payar Islands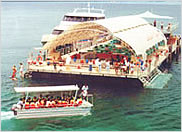 Although there are several dive operators on Langkawi most of the diving is done further south at Pulau Payar. There are four islands in this marine park some 30 kilometers south of Langkawi. It boasts the largest number of coral species in the country and the most vividly coloured soft corals. Vizibility isnt as good on average as other areas in Malaysia but this is made up for by the abundance of marine life. There is a large pontoon and underwater observation chamber here where vessels laden with day trippers from Langkawi moor up.
Pulau Payar dive sites
The southwestern tip of Pulau Payar offers a panoramic coral garden with steep canyons and crevices dropping down to around 18 meters. Marine life includes titan triggers, morays, lionfish and pufferfish. A litter further south is "Grouper Farm" named after the large number of resident groupers, viz is usually slightly lower here. Other popular dive sites around Payar are Lobster Garden, Porite Garden and Raaf Beach. There are a couple of spots around Pulau Lembu including Lembu Rocks and Goodyear Reef.
Pulau Kaca dive sites
South of the island is an artificial reef made up of seven sunken confiscated fishing boats. The wrecks are home to a wide variety of fishlife including jacks, mangrove snappers and groupers. Navigation is relatively simple and none of the wrecks lie deeper than 18 meters.
Pulau Segantang dive sites
This small island lies 13 kilometers west of Pulau Payar, it features steep rocky terrain down to 20 meters. Fish life is in abundance with barracuda, jacks, snappers and often nurse sharks. Tyre Reef is the most popular site here, there is also an anemone garden round the northern side of Segantang.