Asia Dive News : Phuket underwater park ready for divers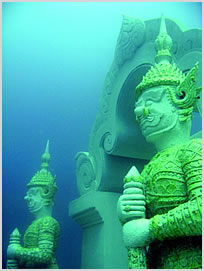 Sculptures worth 4 million baht have been placed on the seabed at a depth of 15 meters close to Koh Racha Yai, Phuket, and are being promoted as a special "must see" site for divers in the coming high season.

Phuket Diving Park, as the site is now known, features sculptures including Thai demons ( yak ), traditional decorative arches, a sala, two elephants and a giant pearl oyster. Over time they are expected to become artificial reefs, attracting a variety of sea life.

Dr Thammasak Yeemin, from Ramkhamhaeng University's Institute of Research and Development and Marine Biodiversity Research Group, and leader of the Phuket and Krabi underwater sculpture teams, told the Gazette that the Park is already being promoted to the dive industry and tour operators. He added that brochures have also been prepared for distribution to tourists during the coming high season.

"We conducted a survey that showed Koh Racha Yai as a place where people particularly love to dive. The idea is that the Park will be a place where divers come to take photographs, because the water is so clear. All the sculptures were placed on sand so that no coral would be damaged," he added.

Phuket is one of six Andaman Coast provinces that have installed underwater sculpture parks, the others being Ranong, Phang Nga, Krabi, Trang and Satun.
Source: Phuket Gazette