Asia Dive News : Wreck exploration project to go ahead in Japan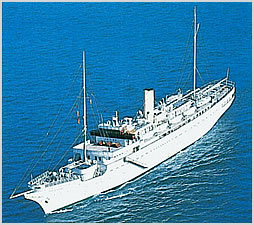 On the 2nd September 2006 the famous first class luxury liner Stella Polaris sank off the coast of Kushimoto, Japan. The ship sank to a depth of 72 meters, and has never been dived by commercial or scuba divers.
An international renounced technical dive team from Austria, Sweden, UK and Japan, will visit the wreck for the first time to photograph and film the wreck.
The wreck is in a water depth beyond recreational diving and the sophisticated dive equipment will be state of the art rebreathers on mixed gas.
Local mariners in Japan consider the dive site to be demanding and dangerous.
The Stella Polaris wreck is situated in the Kuroshio current which is the second strongest tidal current in the world with speeds up to 4 knots. Additional shark encounters are anticipated.
Source and further info: www.aquatec-innerspace.com