Thailand offers pretty much everything underwater to everyone from novice divers to the more experienced sub aqua adventure seekers. A Kingdom that straddles two seas; the Gulf of Thailand merging into the South China Sea on one side and the Andaman on the other. The beauty of this geography is that diving is year round and while it may be wet season on one side, the diving will be fine on the other.
With everything from old WWII wrecks, extensive cave systems, drop offs and holes, hundreds of continental and oceanic islands and a diverse marine ecology Thailand truly offers some of the best diving in the world. A solid tourism infrastructure also means that many destinations within the Kingdom are geared up solely for divers, some resort spots have over 30 dive shops offering everything from day drips to liveaboards to mixed gas, technical diving and Instructor Development Courses.
Diving destinations also vary in what they offer; Koh Tao is considered the mecca for learning to dive, Pattaya offers some of the best wreck diving in Thailand, the best hub for reaching all Andaman dive sites is Phuket, and the Similans are a world class dive spot with probably the best visibility and marine life in the Kingdom. Many of the dive spots lie within National Parks and and the Thai government now charge foreigners ten times the local price to enter them.
The chart below shows the dive seasons and conditions in Thailand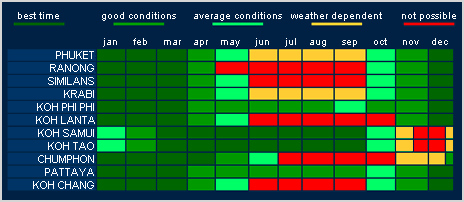 Tsunami
Asia Dive Site expresses our deepest regrets at the losses caused by the December 26th tsunami. Our thoughts and prayers are with all those that have lost loved ones and livelihoods in this natural disaster. Some authorities have closed dive sites for reef regeneration projects, please check with your dive guides and travel agents before you book. Please do not cancel your holiday, this only hurts both Thais and ex-pats that are living there trying to re-build their businesses.