Pedro Blanco, an isolated rock pinnacle 85km east of Hong Kong, was home to a colorful variety of exotic marine life including blue marlins, mantas, reef rays, octopus and turtles. April to July has many kinds of fish groups every year, Such as whalesharks, marlin, barracuda, mantas, tuna, etc. Dynamite fishermen and a succession of overnight spear-fishing expeditions are decimating fish stocks to the point where the site is in danger of becoming worthless as a diving location, according to marine experts. A large increase in the number of Hong Kong people diving with a corresponding increase in the number of weekend expeditions by spear-fishing teams accelerated the decline of fish stocks at Pedro Blanco.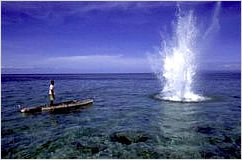 The isolation that once protected the fish at Pedro Blanco now seems to be working against them. A letter written to the Guangdong Marine Fisheries and Agricultural Bureau in 2003 informing them of the blast fishing situation met with a favourable response and seems to have resulted in increased patrols in 2004. However, bombing continues as the rock is too isolated for regular patrols and it is difficult to catch the bombers in the act. In addition, the increase in popularity of recreational fishing and spearfishing in Hong Kong in recent years, and the introduction of larger dive boats capable of taking up to 40+ divers to the site have greatly increased fishing pressure from these gears. As in Hong Kong, such fishing is not regulated.
This aside the area offers deep diving and the area is used by many of the local dive shops for training for technical and enriched air diving. Also offers the opportunity to see larger sea life.
Hazards & Warnings
The normal warnings for diving in Hong Kong apply to this area.

This area is subect to tides and current flows coming from as far away as the Kowloon landmass and based on the prevailing winds and tides.

Furthermore, be advised that if you are diving on the Western end of the strait; that you are diving very near a major international shipping lane

It should also be mentioned that local fisherman enjoy using the spot