Hong Kong is slightly different to most of the other dive sites in Asia. The visibility often isn't as good, the water is cooler and there is less to see. That said it doesn't mean that Hong Kong should be overlooked as a dive destination as it still holds a few treats of its own.
There are many factors that influence diving in Hong Kong.

The area is basically sub-tropical. This means that some sort of thermal protection may be required when diving here. In the winter months a semi-dry or dry suit is probably the best type of exposure protection to have. A 3-5mm wet suit should be sufficient to make the diving comfortable during the warmer months.

Hong Kong is surrounded by sea. The approximate sea surface area is 1650 sq km, and dotted with some 200 islands. The rocky reefs and coral comunities of Hong Kong shelter a diverse and exquisite range of fish and marine fauna. Over 300 species of reef fish and 80 species of corals (hard & soft) have so far been recorded.

Underwater visibility in Hong Kong does vary and is subject to prevailing wind and tide conditions. Depths also vary from shallow 5-10m dives, to deep 20-30m dives. There are a variety of artificial reefs and offshore islands to dive on. Small coral communities can also be found along the eastern coastline, which make ideal snorkeling spots.

Most public beaches in Hong Kong have shark nets to protect the swimmers from sharks. Once the sea surface temperature rises to above 23C large sharks start to patrol the local waters. There have been attacks on swimmers and spearfishing divers. Most of these attacks have occured around Clearwater Bay. But shark sightings have been reported all around the SAR. It is a good idea to check on shark sightings before diving in Hong Kong. Several groups of divers here use Shark Pods for protection during the so called shark season. Note that there has been some effort in trying to get permission to dive within the shark nets. So far all private applications have been turned down. If you are a member of the Hong Kong Underwater Association you can apply to dive inside some of the shark nets but even this is discouraged by the beach life-guards.

Hong Kong has several marine animals that need to avoided. The most dangerous include sea snakes (rare), cone shells (common) and blue ring octopus (some). Other animals to try and keep clear of are the lions mane jellyfish, white sea nettle and sea urchans.

Other matters to consider are the weather - sometimes unpredictable, and the tidal currents. The latter consideration required so that you do not finish up in surfacing in Chinese waters and having to explain yourself to the Chinese Water Police or Navy. In addition you should always dive with a 'safety sausage' or surfacing buoy and use it when you are unsure where you are surfacing. Be mindful of currents especially when diving near Hong Kong's busy shipping lanes.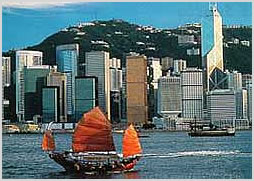 General Information

Most divers in Hong Kong tend to join or associate with one or more of the many diving clubs or associations located here. The two major ones are listed at the bottom of this page.

These groups either have their own boats or arrange them along with limited transportation to and from a pick-up point. It is also normal for them to provide tanks and sometimes weights at a fee. This service normally operates during the whole diving season. Some clubs run diving trips and activities all year round. You really need to contact the club or association to check.

Private car access to the Sai Kung Country Park is by Permit only. Drivers need to go to the Permit Office located inside the Pak Tam Chung Visitors Center next the barrier. All permits must be prearranged and can only be collected during times the visitors center is open (9:00am to 4:30pm, 7 days a week).

There is no cost or fee, but you basically need to know someone that lives inside the park, or rent/own property there yourself to qualify for a permit. These permits are zoned to areas and do not allow you to travel on Water Authority roads around the High Island Reservoir. There are random Police checks done inside the park to ensure permits are in order, these are usually roadblocks and normally late at night.

Moving about on land

Driving in Hong Kong can be an experience in itself. Parking is another problem and, even in remote places, is illegal in all areas except those designated as car parking areas. The traffic police tend to target private cars and will issue multi fixed penalty tickets to all cars illegally parked. This includes vehicles clearly not causing any obstruction or danger to anyone or anything.

If you do not have access to a car or can arrange a lift with another diver then getting to a diving site or pickup point can be difficult. There is a very comprehensive public transport system but this is designed to move people not divers with gear. Taxies are not always that enthusiastic about transporting wet diving bags and diving cylinders. Being polite and looking pathetic has been known to help if the situation looks hopeless. The public buses, well lets say that there is a lot of room for improvement. However, politeness, persistence and a little extra money will usually encourage a minibus driver to allow you to get you and your equipment to and from a diving site.

An alternative to this is to hire a small private van. This is particularly cost effective if there is a small group of divers visiting an area at the same time. You may need someone fluent in Cantonese to help with the arrangements. Some names and contact numbers have been included at the bottom of this page, but this list is no way extensive and some of this information may outdate quickly.

Moving about on the water

Small boats or walla-wallas can be hired from many of the public piers in Hong Kong and from all of the typhoon shelters. These boats vary in size and can hold between four and eight divers comfortably. These boats are normally used by the locals for fishing and are hired by the half and/or whole day. The operators will also ferry divers to nearby dive locations. The normal practice is to see the boat first, ask the price if it is suitable and then bargain. Remember that unless you are doing a shore dive you will have to climb back onto the boat after the dive. Make sure that the freeboard is not too high.

Hong Kong has a network of public ferries (Hong Kong Yau Ma Tei Ferry Company) that ply between most of the major outlying islands. These ferries will take divers with gear but normally make sure that you pay a luggage surcharge. You should arrange to get to the ferry pier at least 15 minutes before the scheduled departure to arrange this. Ferry schedules will be added here shortly, please check back soon.

There is also a network of Kaido ferries that overlap most of the public ferry destinations and many more less popular places. Schedules are fairly fixed and surcharges will normally apply for diving gear and tanks.

If you are going out with a large group or join one of the Hong Kong scuba diving clubs listed below, you will usually go out on a larger chartered boat that the club hires for the day. The price can range from $100-$400 HKD (about $12.50 - $50 USD) per person for the day, so be sure to check the arrangements ahead of time.
Hong Kong at a glance
Religion: Primarily Tao Buddhist, Minority Christian
Population: 7 million
Currency: Dollar (8 = 1$US approx)
Geography: 1,092 sqm
Coastline: 733km
Language: Cantonese and English
Travel: International airport and highly developed transportation system.
Diving: Lower viz and cooler water temperatures, ideal for macro enthusiasts.